AiR Sefrou
Artist and Researchers Residency
Description
Introducing the immersive experience of Culture Vultures' Artists and Researchers Residency (AiR Sefrou), Northern Central Morocco, where focused time for your creativity meets Moroccan authenticity.
Immerse yourself in the vibrant heart of North Africa, surrounded by the rich tapestry of Amazigh and Arab traditions, green landscapes, diverse heritage, rich history and a community renowned for its warm hospitality.
As a guest at AiR Sefrou you would reside on the edge of the ancient medina and bustling souk in Sefrou, located between the imperial city of Fez and the Middle Atlas Mountains. With a carefully curated program that enables self-governing resident guests to focus on their practice or research and simultaneously explore the local culture and community.
Culture Vultures welcomes artists from diverse disciplines such as visual arts, literature, music, performance, architecture, theater, and more.
Through our residency program, Culture Vultures provides a unique opportunity for artists and researchers to draw inspiration from Morocco's rich heritage, vibrant landscapes, and diverse artistic traditions, while also fostering personal and professional growth within a supportive and collaborative environment
Our story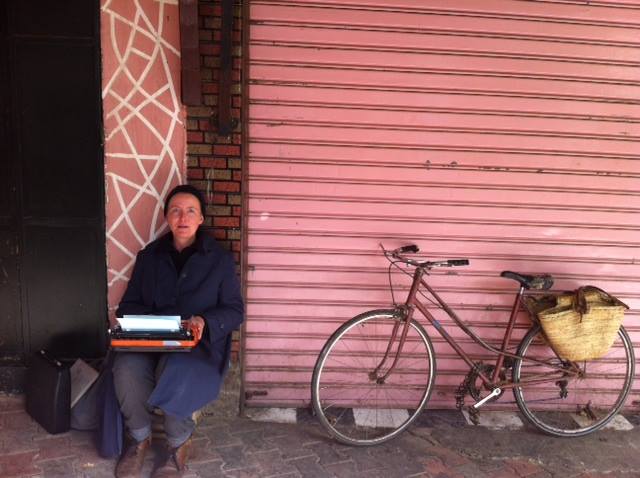 About Sefrou
Sefrou is one of Morocco's more ancient cities, once a highly important trading post that now plays the important role a sa market town that serves the rural region.The old city continues to embrace traditional Moroccan life with its food market and artisanship, whilst the surrounding newtown boasts cafes, parks and more modern amenities. Nestled at the base of the Middle Atlas Mountains and a short ride from the Imperialcity of Fez, it is convenient to travel both to the capitols (Fez, Rabat and on to Marrakesh) and into the rural landscapes of rolling olive groves heading up towards the mountains. Sefrou region boasts four clear seasons.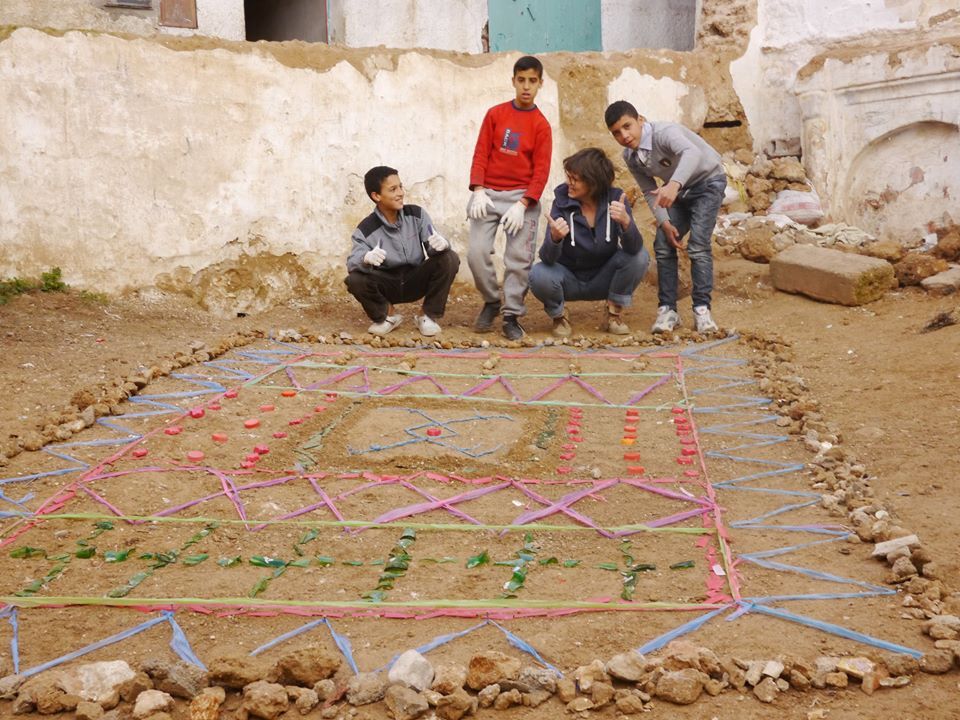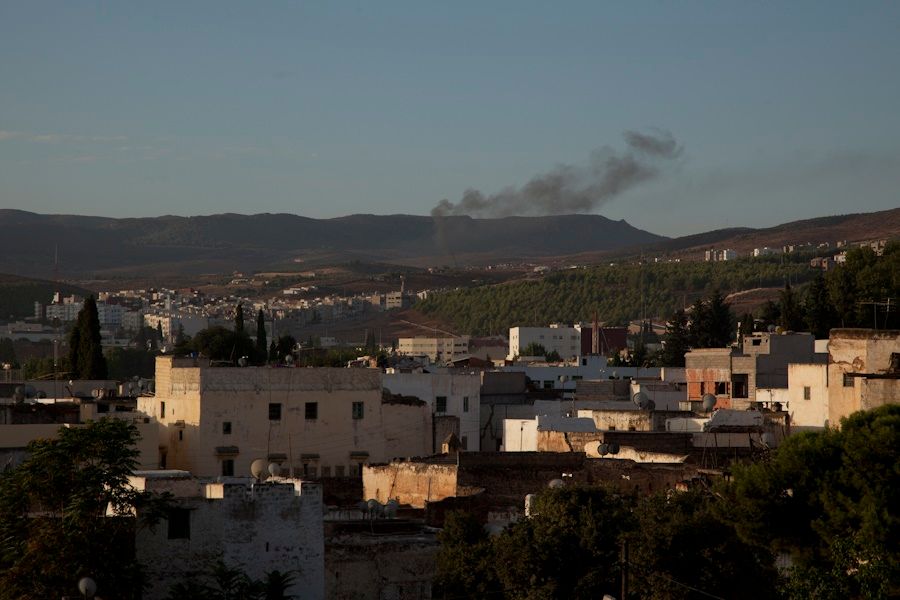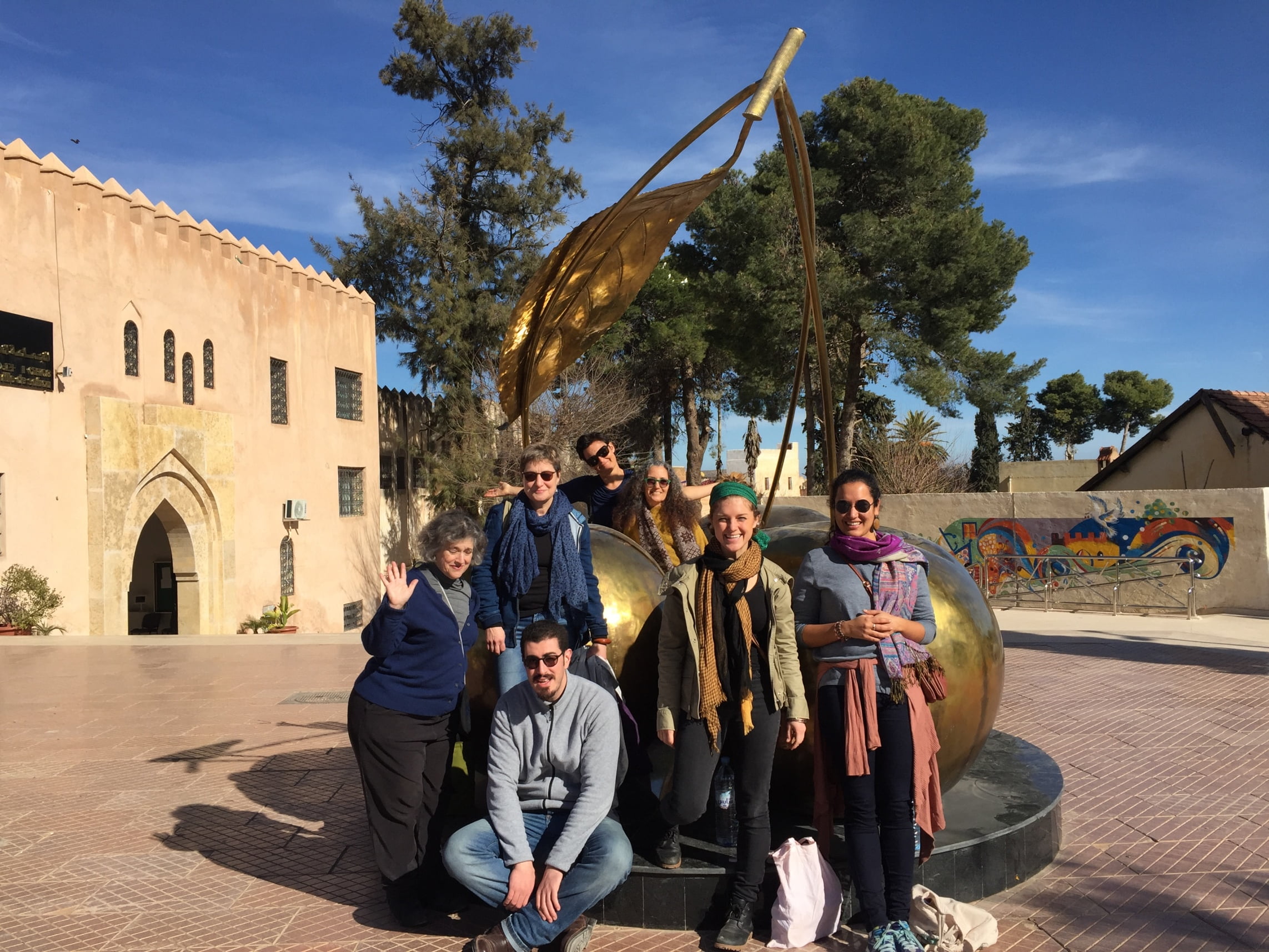 Culture Vulture has hosted more than 120 resident artists / researchers since 2014, who stayed for an avarage of 3 to 4 weeks.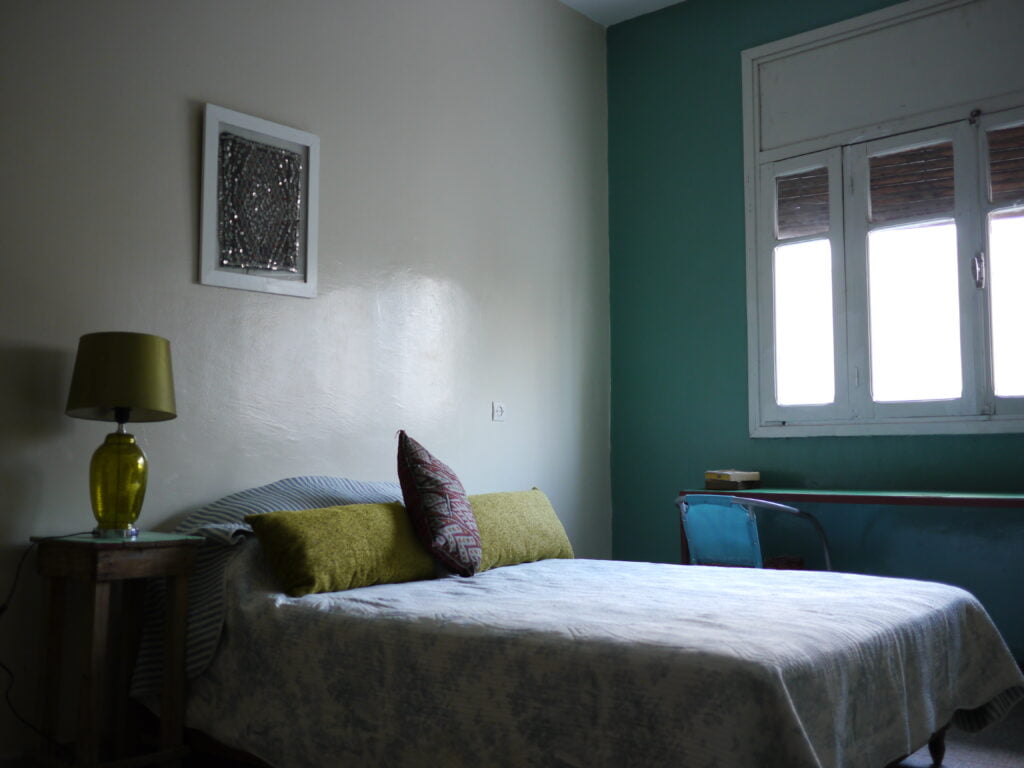 Apartment
One the second floor in a small complex with quie tneighbors,the apartmentl ooksout over the top of the chestnut trees onto the market street below. It is conveniently located a stones-throw from the old city (medina) with cafes, sandwich shops and fresh food on its doorstep and a 5-minute walk for transport to Fez and beyond.
Hot water, basic internet, and all amenities are covered.
Studio
This space has both the tranquility and set up to arrive, focus and work, views to inspire and environment to stimulate a self-governing creative.The converted apartment into artists' studio with living quarters contains everything one needs, with amenities close by. The studio space serves most 2D mediums, liquid or dry. The kitchen and lounge/sleeping area is comfortable and adequately fitted.
Subject to availability.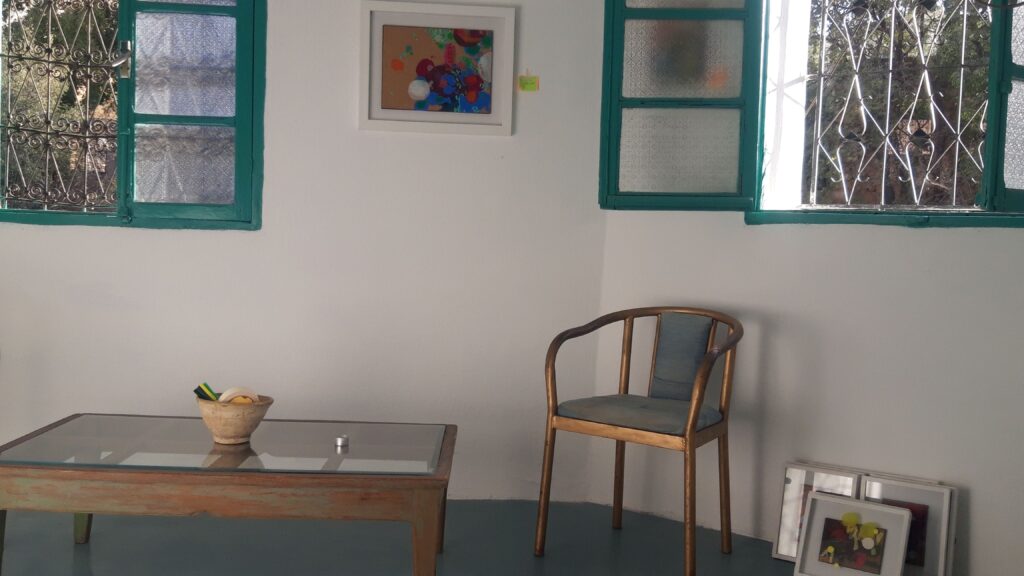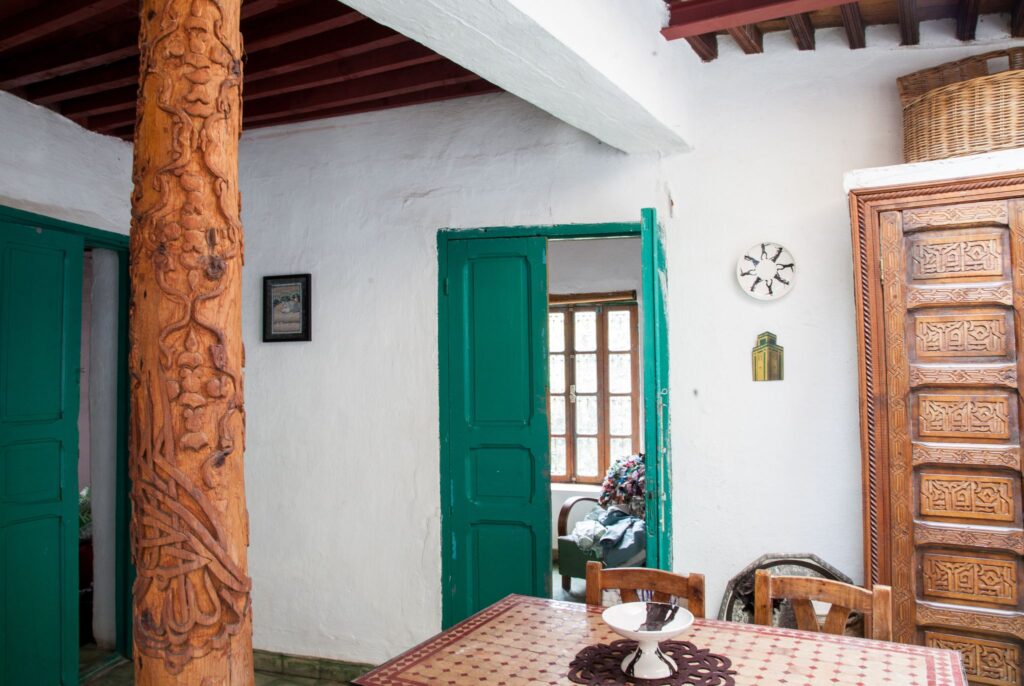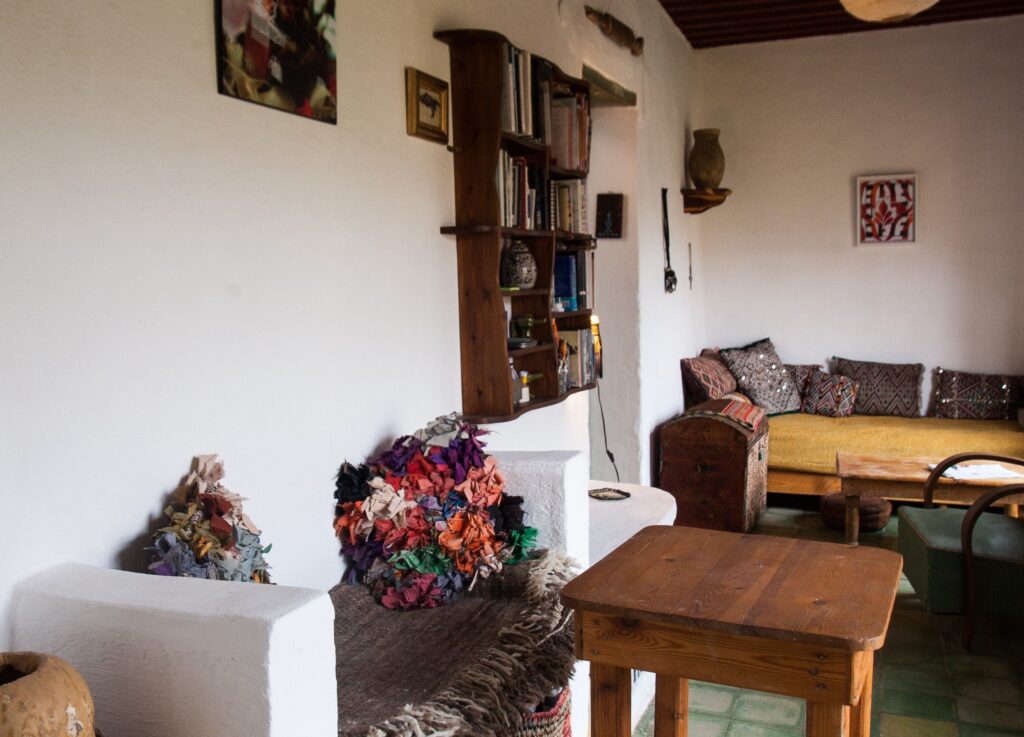 Dar Biscuit
Dar Biscuit is a charming old apartment nestled in the old medina of Sefrou, north Morocco and is perfect for a curious single artist/researcher or creative couple. It's a comfortable abode, tastefully decorated and full of arts and culture focused books. It is a stones-throw from the heart of the oldest part of the city, the fresh food market and artisan quarter.
How  to apply
Activities
With 15 years of local arts and culture coordination,we can connect and recommend meet ups, events and activities for guests.
Guests
The artist / researchers lodgings are part of a creative community that is being nurtured in Sefrou. With that in mind, we house researchers, artists and those with a creative projects.
Timeline
There is a minimum stay of 2 weeks and a maximum of 3 months.
Support
Assistants, facilitators or interpreters are available for guest artists or researchers to support with their projects.
Deposit
A deposit of 35% is required to confirm your stay. The remaining monies should be paid upon arrival.
Insurance
Residents are required to have travel insurance.
Testimonials
What our residents say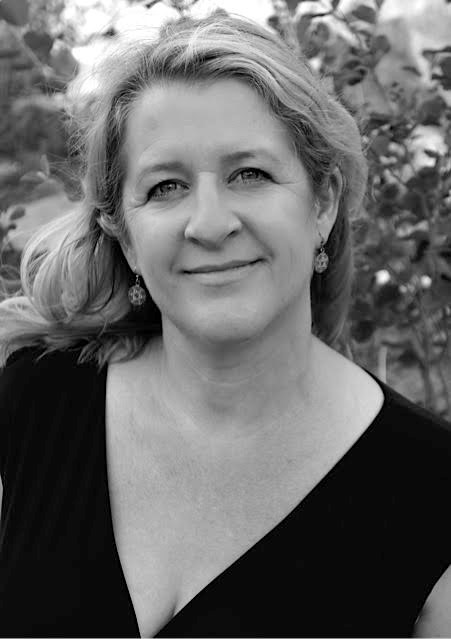 Heather Altfeld
Writer and Researcher
There are certain places that act as a kind of 'magnet' for humans, as if they contain a geographic beauty and even a spiritual imperative that pulls us to come and stay a while as if we are being propelled there by some sort of magical force.  The small town of Sefrou, about 30 km from Fes, is one of these places. It was not long before I found myself completely feeling welcome and at home..
Khadija El Kharraz Alami 
Performance Theater Maker
My experience in Sefrou as a resident artist fed my work, by reminding me to be curious. Through the ruins and ancient architecture, my imagination was triggered to imagine the past in the present which was magical, because I suddenly was part of that past in the present.
Erna Van Sambeek
 Textile Artist
The residency with AiR Sefrou showed me that making art together with people from a new culture and community is far from an obstacle. Thanks to Culture Vultures and their facilitator, Brahim I met people in unexpected ways and had encounters on a human level. I learned that art can be, or is, a tool for connecting people. A fantastic, life-lasting experience.